Whether you have a small fracture, a large cavity, or you are missing most of your teeth, Dr. Helen Ragsdale has a restorative dentistry procedure to meet your needs. At Austin Laser Dental, she uses state-of-the-art materials to provide highly lifelike restorations that will blend seamlessly with your smile. Thanks to her collaboration with a team of skilled lab technicians, your new teeth will not only look great; they will also enhance your overall oral health for years to come.
Dental Implants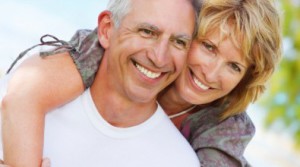 Dental implants are considered the top treatment option for missing teeth. These small titanium posts are placed directly in your jawbone. Once your bone and gums have healed, they become permanent fixtures to support a custom-made crown, bridge, or denture. Thanks to their incredible stability, you will be able to laugh, speak, and smile with confidence. Additionally, implants offer significant advantages for your overall oral health. They can preserve your natural facial structure and prevent jawbone degeneration, which often accompanies tooth loss.
Implants are easy to maintain. You will simply need to brush and floss daily and make routine trips to the dentist. With proper care, implants could last a lifetime.
Dental Crowns
Dental crowns can strengthen damaged teeth, repair structural problems, and conceal cosmetic blemishes. Although crowns can be made of metal or porcelain-fused-to-metal, Dr. Ragsdale only offers porcelain crowns. These restorations are hypoallergenic and incredibly strong. They will also blend seamlessly with your smile. To place a crown, Dr. Ragsdale will reshape your tooth, using a hard tissue laser. Thanks to this advanced technology, the treatment should involve minimal discomfort. Then she will take measurements and impressions of your tooth. While you wait for the lab to create your crown, she will provide a temporary restoration. When the crown is finished, Dr. Ragsdale will attach it to your tooth using dental resin. With proper care, your new restoration should last 10 to 15 years.
Dental Bridges
When you are missing teeth, your other teeth will start to shift, filling in the gap in your smile. In turn, this can cause widespread misalignment, bite imbalance, and dental erosion. Missing teeth can also increase your risk for dental decay, gum disease, and TMJ Disorder. By replacing your missing teeth, Dr. Ragsdale can significantly improve your overall oral health, as well as the appearance of your smile.
Although implants are the premier method of tooth replacement, a dental bridge is another excellent option. To place this custom-crafted restoration, Dr. Ragsdale will crown the two adjacent teeth. The crowns will support one or more entirely new synthetic teeth. As with crowns, we provide all-porcelain bridges for more lifelike results. With proper care, your bridge could last a decade or more.
Dentures
Dr. Ragsdale's beautifully crafted, modern dentures can restore your appearance and oral health. She will take extremely precise measurements of your mouth and send them to a dental lab. Highly trained technicians will create a gum-colored acrylic base that will fit around your gums. Then they will fabricate an entirely new set of acrylic or porcelain teeth. For optimal aesthetic results, they will craft restorations that match the shape and symmetry of your face. Thanks to our extreme precision and advanced materials, your dentures will be virtually indistinguishable from natural teeth. They will also fill in your facial contours, providing an "instant facelift," and helping you to look years younger.
Fillings
As you probably know, a dental filling is the most common way to treat a cavity. When placing a filling, Dr. Ragsdale will remove all bacteria to preventing the spread of decay. In addition, the filling itself will strengthen the walls of your tooth and reduce your risk for further structural damage. Although some dentists offer silver amalgam fillings, Dr. Ragsdale only uses tooth-colored composite. This material comes in a variety of shades, and she will select the one that blends flawlessly with your smile. Additionally, composite is mercury-free, does not conduct heat, and requires less tooth preparation.
If you have a cavity that is too large for a dental filling, Dr. Ragsdale may recommend an inlay or onlay. These porcelain restorations will go on the top surfaces of your molars, restoring functionality and preventing future damage.
Improve Your Dental Health With Restorative Dentistry
Contact us today to find out how we can repair your dental damage and restore your smile. Schedule an appointment with Dr. Ragsdale by calling (512)346-4690. We proudly treat patients in Austin, Round Rock, and the nearby communities.