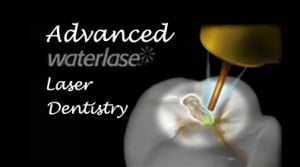 Austin Texas dentist Dr. Ragsdale is a recognized local expert in clinical applications of dental lasers. Dr. Helen Ragsdale is one of the first Texas dentists to provide hard tissue dental laser procedures for her Austin area patients. Dr. Helen Ragsdale has taught many over–the-shoulder demonstration classes to local dentist, ranging from bleaching procedures to cavity preparation and cosmetic gum surgery.
Dr. Helen Ragsdale uses multiple dental lasers designed for different dental procedures.
Cavity detection and diagnosis
Curing of restorative materials
Treatment of periodontal (gum) disease and surgery
Removal of tooth structure or lesions to eliminate disease
Root canal therapy
Cosmetic enhancements
Why Austin Laser Dentistry?
Dr. Ragsdale ascribes to a minimally-invasive philosophy of dental practice.
What does that mean for you?
Austin Laser dentistry provides improved health with less trauma to delicate tissues and better long-term outcomes for your dental restorations.
Exactly how do dental lasers improve dentistry?
The dental lasers' accuracy permits us to leave in place as much healthy structure as possible during disease eradication.
The dental laser removes the microscopic smear layer on the tooth surface which increases the bond strength between tooth and restoration.
Dental laser cavity detection allows diagnosis of tooth decay at its earliest stages (before it shows on x-rays).
Dental laser energy enhances tooth bleaching for a faster (usually 30 minutes) and more effective result.
Dental laser usage for periodontal treatment and surgery results in minimized bleeding, swelling, post-operative discomfort and (most often) no stitches. Less invasive means less trauma.
Is dental laser treatment right for you?
A thorough exam and diagnosis will help direct you towards those areas of care where dental laser treatment has clear advantages for you.