Dr. Helen Ragsdale is proud to be one of the area's leading experts on laser dentistry. As a renowned Austin dentist, she has taught numerous area dentists, providing on-site instruction for a variety of laser techniques. Additionally, she is one of the first dentists in the area to use state-of-the-art hard tissue lasers. Thanks to her commitment to the latest in dental technology, she can provide highly precise, minimal discomfort treatment for virtually all of your cosmetic and restorative needs.
Lasers are quickly revolutionizing the field of dentistry. These tools are safer than traditional handheld devices, since they pose no risk for contamination. They also sterilize tissues to more effectively eliminate bacteria and improve oral health. Additionally lasers are extremely precise. With these devices, Dr. Ragsdale can remove tiny amounts of hard or soft tissue to achieve outstanding results.
Applications for Dental Lasers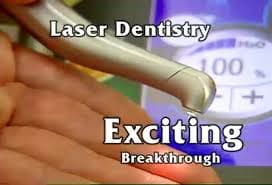 Laser technology can improve nearly every aspect of dental care. Soft tissue lasers are extremely effective in the
treatment of periodontal disease. If you suffer from this condition, pockets of bacteria have accumulated in your soft tissues. During scaling and root planing, Dr. Ragsdale will use a highly precise laser to eviscerate bacteria and eliminate rough patches on your dental roots. In more severe cases, she may insert a laser probe into the periodontal pockets to kill bacteria and accelerate the healing process. Lasers can also aid in gum surgery, since the high energy will seal blood vessels, reducing inflammation and sensitivity. If you desire cosmetic gum treatment, you will also benefit from laser technology. Dr. Ragsdale can remove tiny amounts of tissues to give you a bigger, brighter smile. These procedures will also involve minimal discomfort and downtime.
Lasers are also useful in restorative treatment. First, they can reveal cavities in the earliest stages. Thanks to their extreme precision, Dr. Ragsdale can remove only the damaged portion of your tooth, leaving more of the healthy structure intact. Lasers can also create stronger bond for your restorations, and laser-assisted teeth whitening can yield dramatic results.
Read more about Dental Laser Applications

Hard Tissue Lasers
Dr. Ragsdale is one of just a few area dentists using the innovative BIOLASE® WaterLase laser. This device uses patented HYDROKINETICTM energy, combining lasers with energized wate
r particles. With this unique combination of heat and water, the WaterLase tool can remove damage dental material quickly and with little impact to the healthy part of your tooth. Typically, patients require less local anesthesia than they do during traditional manual treatment. In some cases, they do not require any pain medication at all. The tool also eliminates the unpleasant vibrations and noises produced by manual dental tools.
Dr. Ragsdale may use lasers for a number of functions. These include prepping for a filling, performing root canal therapy, reshaping a tooth for a crown, removing decay, and more. Often, these treatments can take place over just one dental visit, thanks to the versatility and efficiency of the WaterLase device.
Read more about Hard Tissue Dental Lasers
Laser Cavity Detection

At Austin Laser Dentist, we are incredibly proud of our DIAGNOdent® laser cavity detection. This tool allows Dr. Ragsdale to find even the smallest cavities. Then she can provide simple and efficient treatment before they damage the overall structure of your tooth. Dr. Ragsdale can also use the DIAGNOdent® readings to monitor your dental health over time.
DIAGNOdent® measures fluorescence levels in your teeth. First, your dentist will shine the laser on one of your healthy teeth, and she will measure the fluorescence level to get a baseline reading. Then she will shine the laser over your other teeth, making sure to hit the deep crevices and other areas that could harbor bacteria. As the light hits your tooth, fluorescence will bounce off and feed into receptors, which will display the information on an exam room computer. A lower reading may indicate that your enamel is slightly compromised. If your DIAGNOdent® reading is higher, Dr. Ragsdale may recommend immediate restorative treatment
Read more about Laser Cavity Detection
Experience Our Top-Quality Technology
Whatever your dental needs, you will enjoy highly precise and efficient treatment, thanks to our state-of-the-art lasers. Come visit one of the area's leading experts and receive the outstanding care you deserve. Call (512) 346-4690 to book your appointment.  We proudly serve the greater Austin area.